Changhua bloodstone as a pseudo method:
Mosaic method : pick a Changhua stone seal with good texture, select several prominent places, and dig out a small pit with different depths, then embed it with red fluidized mercury paint, wait until it is naturally dry, then grind it. Wax on the light. However, this embedded chicken blood (mercury sulfide) has no layer, and the junction of blood and Chang fossil is hard and has no transition.
Impregnation method : take one side of the fossil, apply mercury sulfide to the place where it is needed, dry it again, then dry it, make it bloody, and then immerse it in transparent resin, so that the body is soaked, pick up and dry. Then use fine water sand to light the light. The fake bloodstone made by this method is aging due to the resin, and the skin will be yellowish in the long-term, which is inconsistent with the internal stone color; at the same time, the pores of the resin skin are relatively thick. Carefully observed with a magnifying glass, the surface has a little bit of a small eye.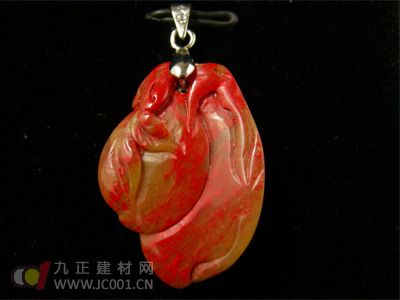 Slice peeling method : The six planes of the stone chapter are respectively cut into six sides thin as paper by a cutting machine. Apply mercury sulfide to where it is needed. After drying, use the hot-hot method and glue the original six cut sheets back as they are, and then polish the strips at the corners of the glue. The red color of the chicken blood seems to be born in the stone chapter and is naturally distributed. But the level of blood can only stay on one plane after all. Such stone medals can only be limited to square or rectangular stone medals, and Others cannot. Because the round and deformed stone chapters can't be cut and engraved, the traces of the sheet will be revealed.
Adding method: This is to add mercury sulphide on the real bloodstone, and cover a part of the surface with a very thin resin, after polishing, it will be made. This type of method is to add blood to the blood, which is undoubtedly the icing on the cake and the value is greatly increased. At the same time, there are fakes and fakes in the real world. Therefore, for a particularly good bloodstone, you must pay attention to and associate with the method of being a fake person in order to avoid the consequences of "deliberately missing Jingzhou."
At present, the most famous bloodstones are named Changhua Bloodstone and Bahrain Bloodstone. According to the texture, it is generally divided into 4 categories: frozen bloodstone, soft ground bloodstone, soft steel plate and bloodstone. It is juxtaposed with Shoushan Tianhuang and enjoys the reputation of "Queen of Indian Stone" and has made great contributions to the development of Chinese Indian culture.
Hooks and Loops,Nylon Hook and Loop,Hook and Loop
Taojin Textile Co., Ltd. , http://www.hzcurtain-accessory.com